Spring is in full swing, and summer will be here before you know it. We don't know about you, but we're looking forward to sunnier skies, warmer nights—and brand-new episodes of Celebrity Family Feud! We wrapped the show here in Los Angeles in February, and this season, which airs starting Sunday June 10 at 8pm EDT on ABC, is shaping up to be better than ever. This year, we brought together some of our biggest personalities yet to duke it out and win big for their favorite charities. When we sat down with co-executive producer Brian Hawley to get a sneak peek, he shared a few memorable moments that are sure to get you excited for the upcoming season.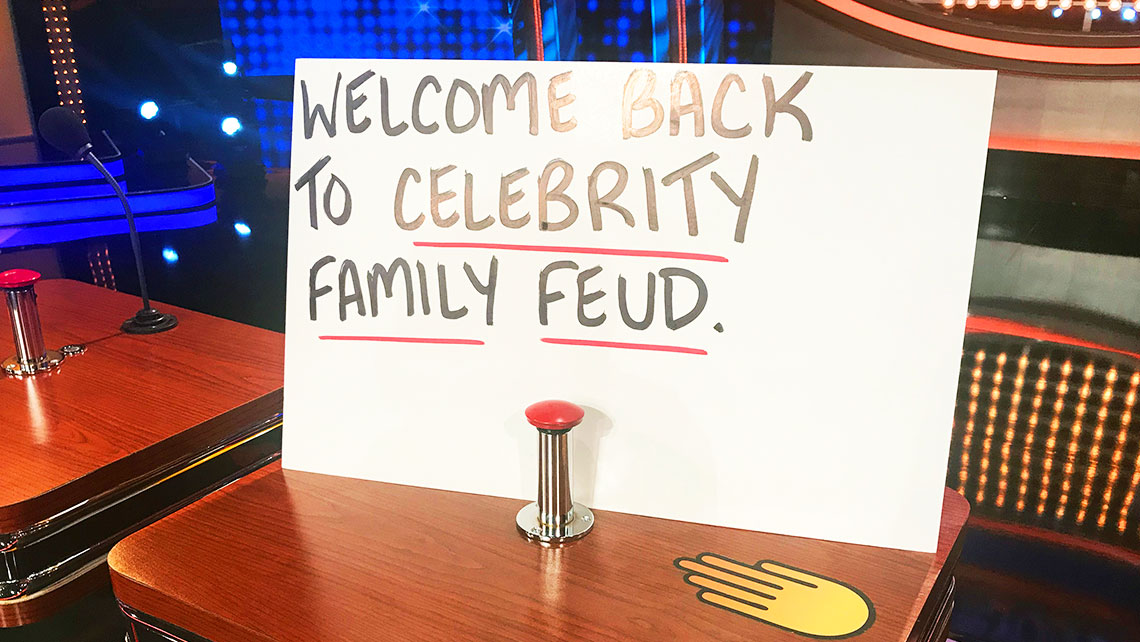 1: Kim and Kanye Showed Up (Yes, THAT Kim and Kanye)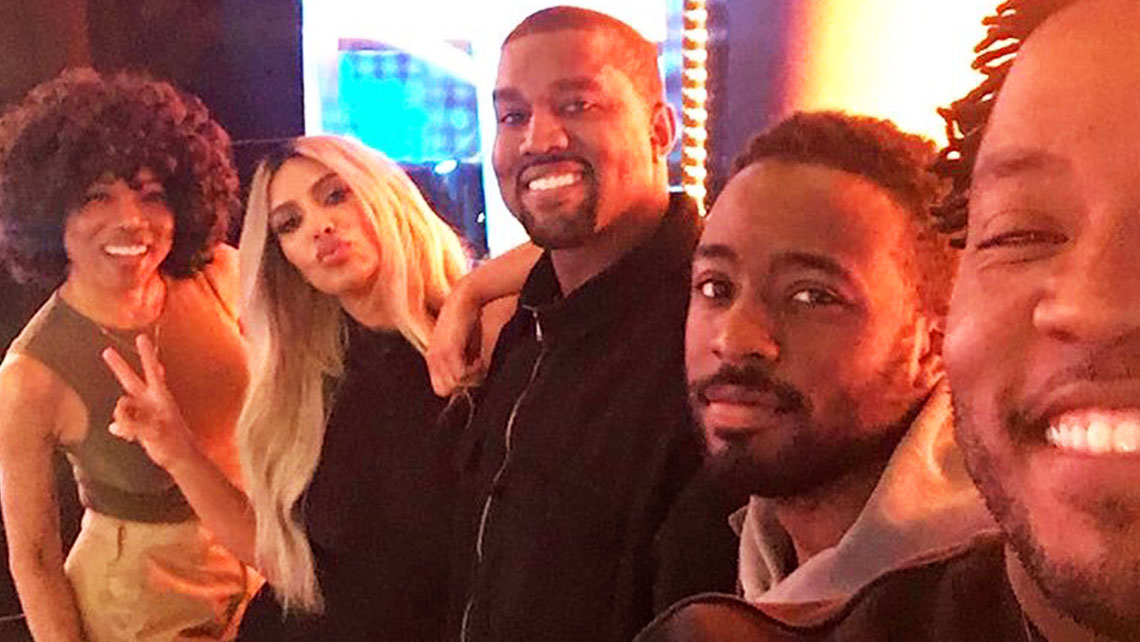 In an ideal world—like the one more than 10 years ago, before Instagram existed and tweeting was something that only literal birds did—we'd keep the celebs under wraps throughout taping. But some are just too eager to let their fans know what's happening from the inside the studio (not that we blame them). Backstage at the studio, a very famous star—Kim Kardashian-West—did just that. Kim took to Twitter and Snapchat, excitedly letting almost 60 million followers in on what she was up to. That is, teaming up with husband Kanye West and his family to take on the rest of the Kardashians in what's sure to be one of the most highly anticipated episodes in Celebrity Family Feud history. "We're always thrilled to get people who are just as excited to appear on our show as we are to have them." Kim and Kanye, it turns out, are huge Feud fans. "They told Steve they watch the show twice a day," says Hawley. Recently, when Steve appeared on Ellen and she asked about the episode, he explained that even Kanye's team was surprised at his level of enthusiasm: "His people said, 'Steve, this is the most Kanye has EVER smiled since we've been working with him.'"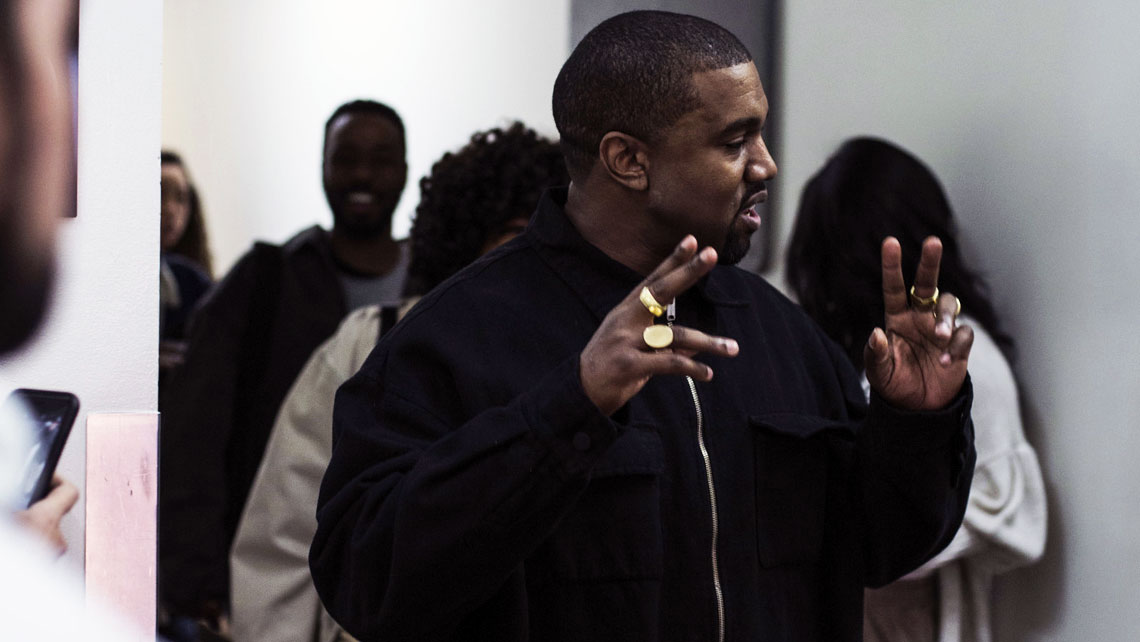 2: Shaq and Charles Barkley Fueled Their Feud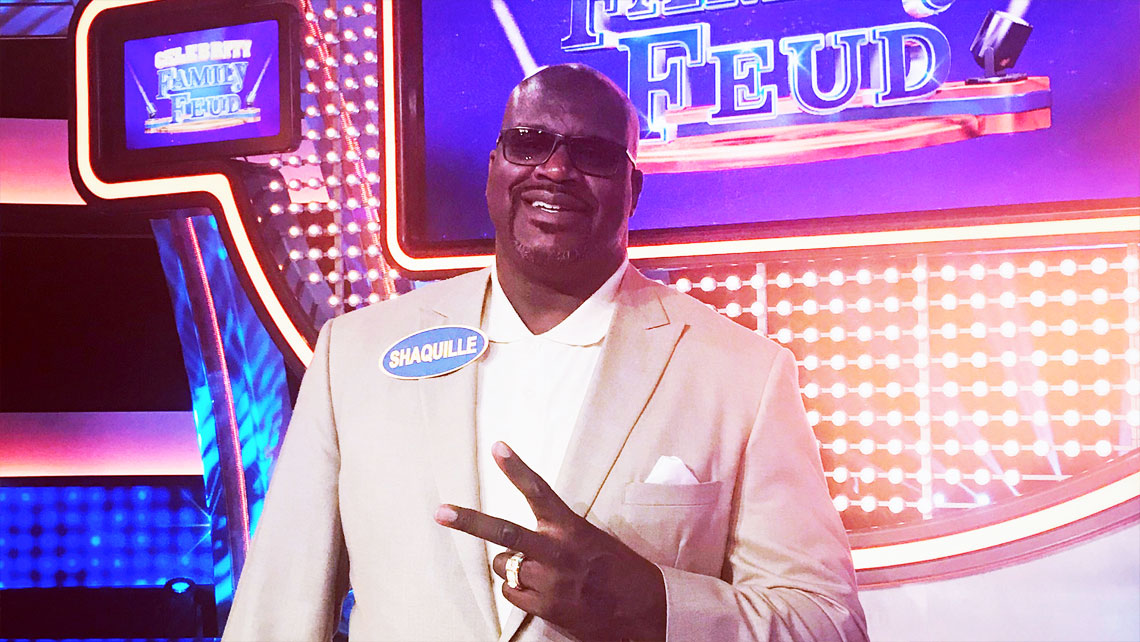 When these two NBA greats took our stage as part of Team NBA on TNT (to take on Team MLB All-Stars), they didn't pass up the chance to play into their ongoing "beef". At one point, Barkley mentioned that Feud players are often all too quick to share the requisite words of encouragement—"good answer!"—during the game. His rationale? "Well, we don't know if it's a good answer until we see if it's up there on the board." Later, when Shaq did get a strike, "Charles teased him, clapping and saying 'good answer, good answer,'' says Hawley. Point taken, Sir Charles. Get a behind-the-scenes glimpse of the taping here:

Go behind-the-scenes with Ernie Johnson, Kenny Smith, Shaquille O' Neal & Charles Barkley at #NBAAllStar weekend in Los Angeles, including an appearance on Celebrity Family Feud, Chuck's visit to Jimmy Kimmel Live and Nate Robinson's #VerizonDunk experience on a special edition of #OutsidetheNBA!

Posted by Outside the NBA on Monday, February 19, 2018

3: Steve Got the Chance to Meet Steph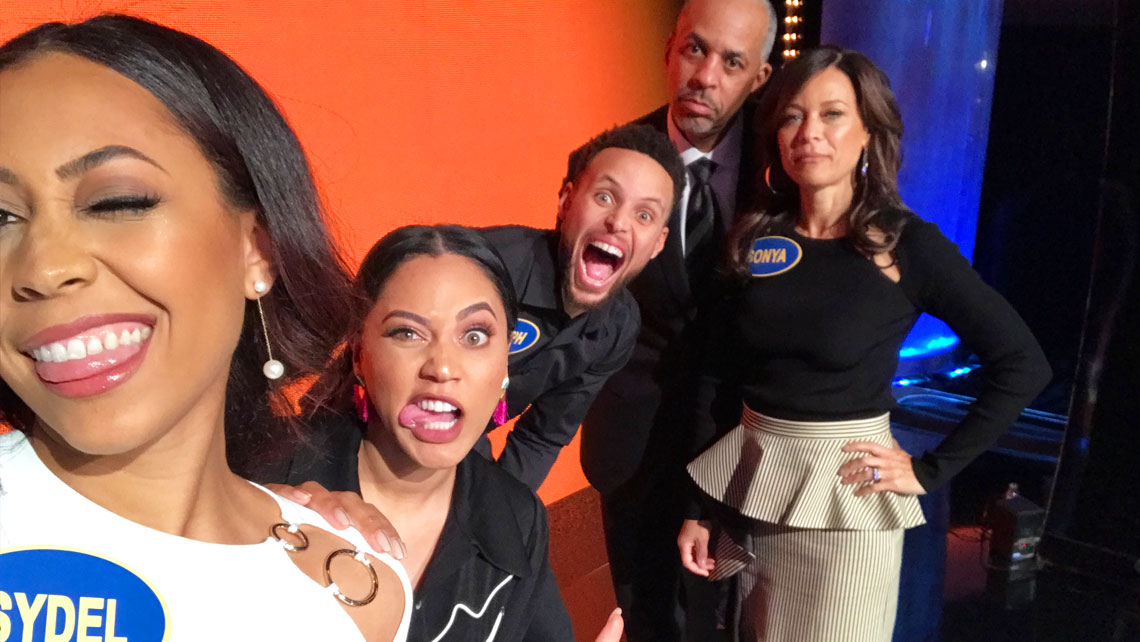 We also had two of the current best players in basketball on, Steph Curry and Chris Paul. "Steve is a big fan and couldn't wait to meet Steph and his dad Dell," says Hawley. Turns out it was Chris Paul and his family's second time on the Feud. "They were on the non-celeb version a few years ago, and had auditioned like any other family. We were happy to have them back!" says Hawley.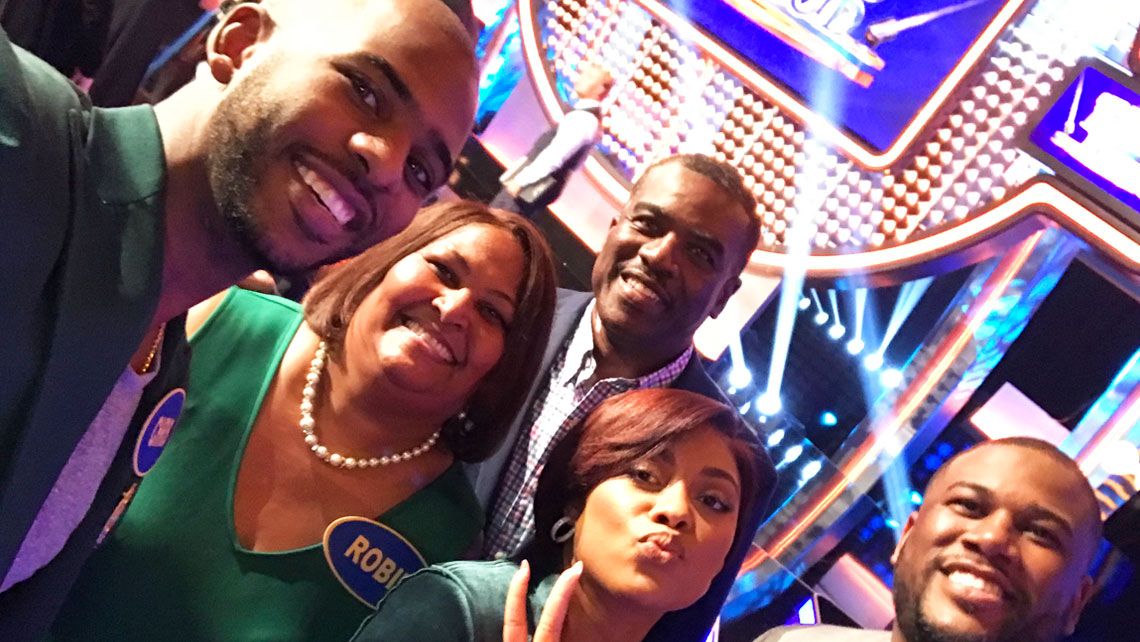 4: The Cast of "Grey's" Embraced Its Thespian Side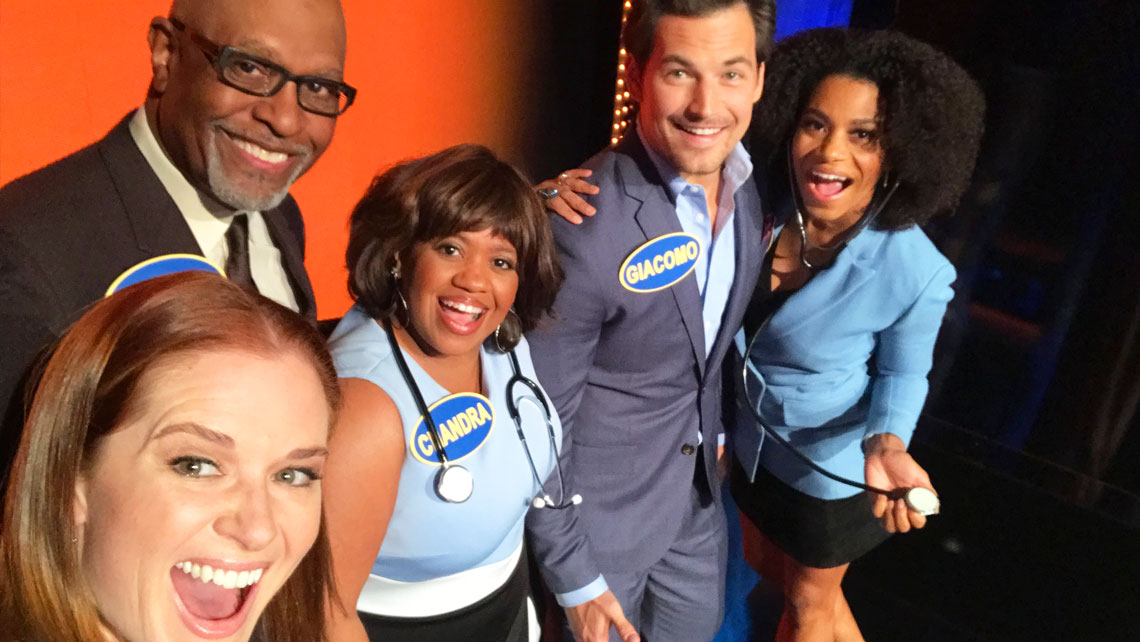 Another exciting matchup coming this season: the cast of Grey's Anatomy versus the cast of its new spinoff, Station 19. "They were a lot of fun," says Hawley. "One of the questions was: 'In order to attract a stallion, name something a filly has and knows how to use it.' They actually acted out their answers, and it was hilarious." To see how it all plays out, you'll have to tune in this summer!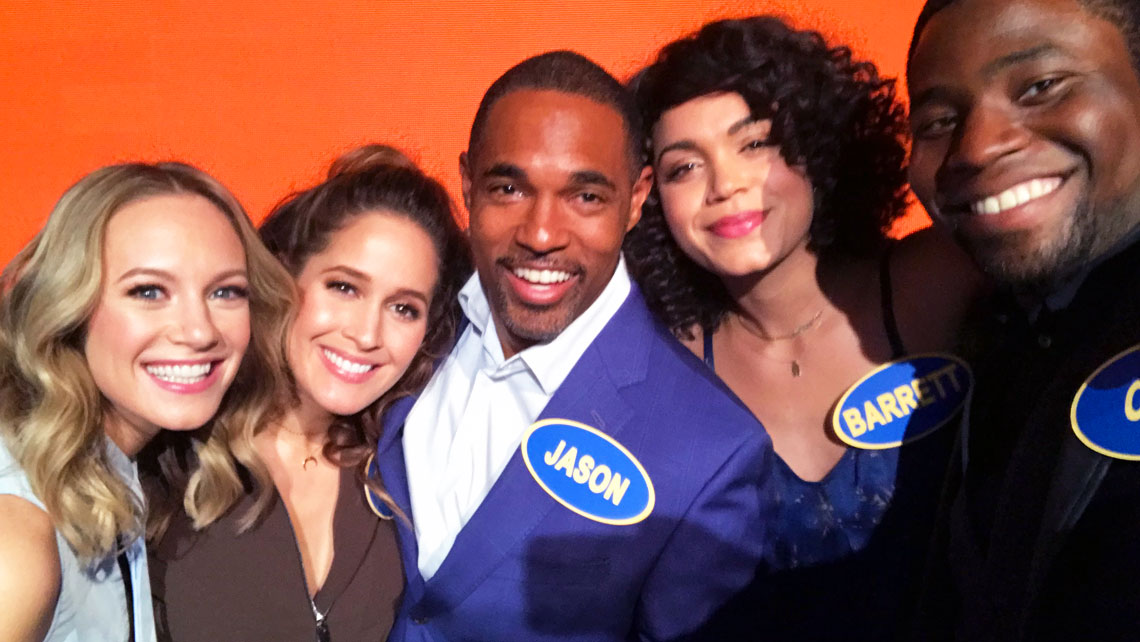 5: As Always, the Charities Won 
One of the coolest parts about Celebrity Family Feud is that our teams are playing to win money not for themselves, but instead for charities near and dear to their hearts. The organizations run the gamut, and help everyone from children in need to homeless populations to women reentering society from prison. "No matter what, even if a team doesn't win, the charity they're playing for still wins money," says Hawley. Winning teams who also win Fast Money get $25K; winning teams who don't win Fast Money nab $10K; and losing teams still take home $5K. For these admirable organizations that deserve our support, it's a win-win-win.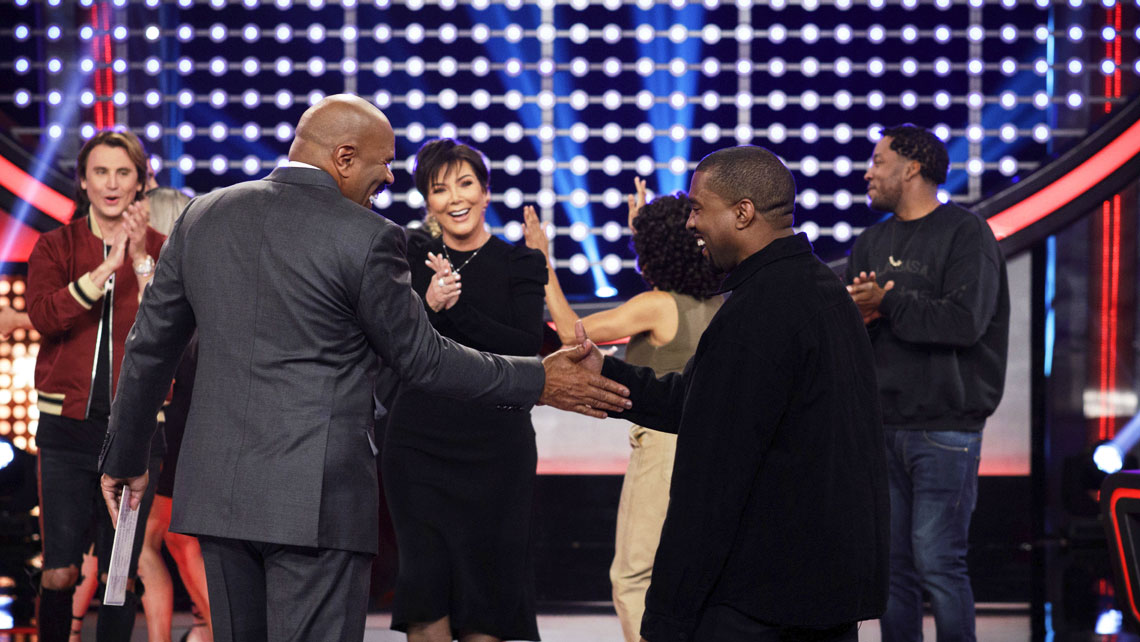 Other celebrity family teams that'll be playing for charity this season include: Ice T and Coco vs. Vivica A. Fox, Tori Spelling and Dean McDermott vs. Amber Riley, Laurie Hernandez vs. Shawn Johnson, Vanilla Ice and more!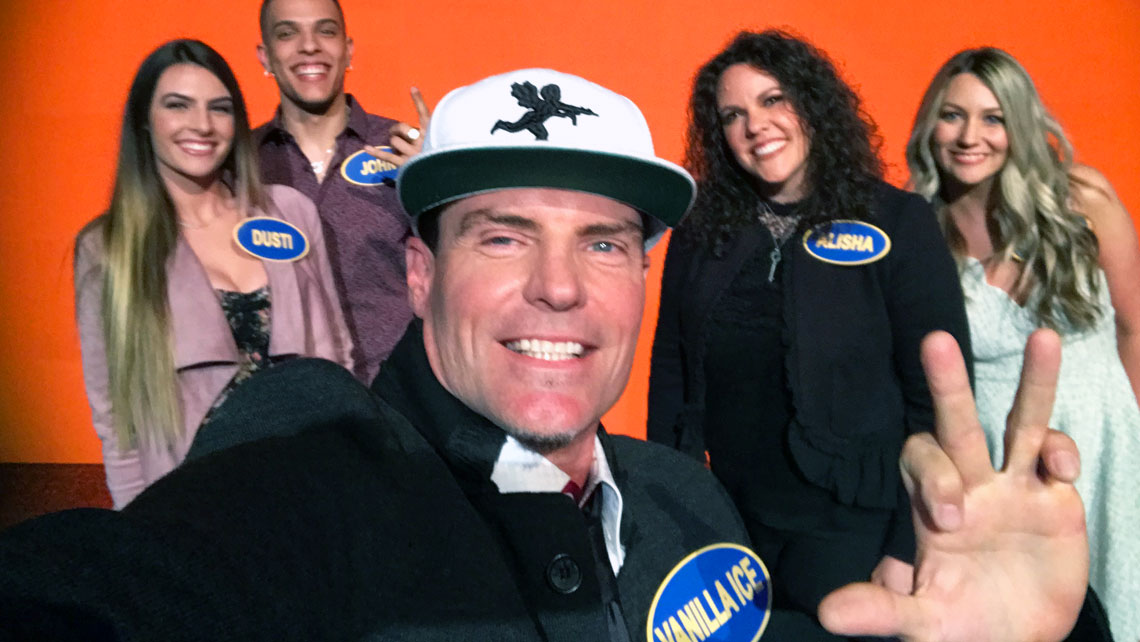 Starting June 10, 2018, all 10 new episodes of Celebrity Family Feud will air on ABC primetime! Can't wait that long? Check out some of the best can't-miss celeb moments in our YouTube playlist. Interested in coming to a live taping of Family Feud in LA over the next few months? Sign up for free tickets here.